Day 2 and 3
The Happy Couple
As we awoke on Saturday morning, exhausted from the long day on Friday. Just enough time to grab breakfast and then it was off to the Stand-By line (Stupid Palace Pass) as we hoped to make it into the newly restored "42nd St."
From my camera
The movie was introduced by Christine Ebersole who has played in 42nd St. the play
The movie was gloriously restored, only having seen it in its worn down scratchy form with poor sound, this was like seeing a whole new movie. with Sexual Innuendo absolutely dripping from the screen, you can only imagine what the original book, which is known to be quite racy, contains.
A much needed lunch break was on our agenda next. Not able to get into the Sophia Loren conversation we headed over to The Pikey to get some food.
Another long line and packed house for 'History of the World Part 1" introduced by Ben Mankiewitz. He really showed his love for the movie and at one point broke out in song. He did his version of this song;
I tried to get a picture as he did the whole dance, but my reactions were too slow
Next was our most anticipated of the festival (besides "Limelight")
Very concerned that we wouldn't be able to get in, and rightfully so as it was a hot event and was standing room only. Nearly the entire theater was packed with Media members and guests. All cramming in to see these rarely seen movies on a really old hand cranked camera, and an Edison wax tube player
We were the last two let in and sat right in the front. Seeing the earliest days of film was amazing and seeing the introduction of color on films as early as 1909 was quite special. Many of the films shown were being seen for the first time by an audience from the original 35mm film. The gentle hum of the hand cranked projector was soothing and would normally have lulled me to sleep, but we were too captivated by this rare opportunity.
They also used the original Glass Lantern plates in between reels which was quite funny. Here is an example of one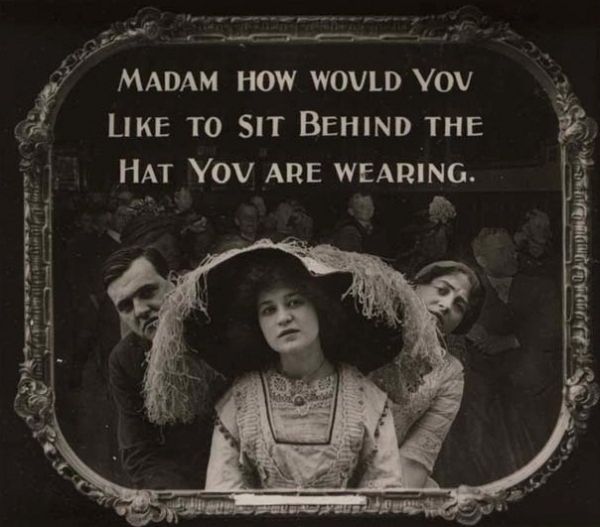 Day 3
The line for "The Hunchback of Notre Dame" was long as suspected but we had a nice early place in line and our best seats of the festival so far int he beautiful Chinese theater IMAX
Afterwards we saw the "100 Years of Title Design" which discussed the first few moments of a film and how the style of the intros have changed through the years. It sounded boring to quite honest, but in reality was quite informative. The styles of the intros run concurrent to the styles of advertising and movie making in general at the time. So just by watching a quick intro, even to a movie you have never seen before, you could tell what year it was made.
We had a wonderful time at the Festival and will be heading back next year. Completely worn out from our jam packed weekend we were glad to make it home. While it was nice to see these great movies restored and on the big screen with an audience that was as into it as you were. I am still looking forward to cuddling up on the couch and watching the original "Pink Panther" with Peter Sellers with my wife tonight.
As I said in my TCM video from the festival (below) the best thing about continuing to watch these classic movies is, if you haven't seen it, it's a new movie to you. And thee are so many out there i have yet to see.